New Release * Available NOW
Jun Fan Gung Fu


_____________
Seeking The Path Of Jeet Kune Do 2  
By Kevin Seaman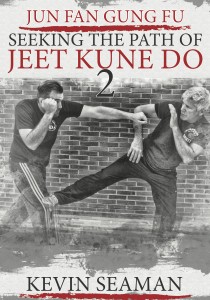 Foreword By Dan Inosanto
A Special Note By Taky Kimura
This follow-up book to Jun Fan Gung Fu-Seeking The Path Of Jeet Kune Do expands on the first volume and includes many of the aspects that were important to Bruce Lee. Sifu Dan Inosanto loved my first book so much, he asked me to write a 2nd Volume. Here are what the EXPERTS say about the book.
"Kevin brings his insights and expertise in the arts to the masses. This book, along with Kevin's previous book, Jun Fan Gung Fu-Seeking The Path Of Jeet Kune Do Volume 1, will be a welcome addition to your martial art library."
-Sifu Dan Inosanto
Original Student and Instructor Directly Under Bruce Lee
Los Angeles, CA
"I believe Sifu Kevin Seaman has written both a comprehensive overview and "deep dive" into what makes Jun Fan Gung Fu and Jeet Kune Do not only unique but effective and why it continues to be relevant today. It is worthy of high praise and surely an excellent addition to your martial library."
-Sifu Taky Kimura
An Original Instructor Directly Under Bruce Lee
"I have known Sifu Kevin Seaman for a Long time …his training with Guro Dan Inosanto has been ongoing for as long as I've known him.  His insight to the Jun Fan/ Jeet June Do Art and Principles are at the highest.  I personally recommend learning from this Great Man!"
-Sifu Erik Paulson
Founder of CSW/Senior Student Of Dan Inosanto
"Having had a chance to review Kevin Seaman's new book, I was very impressed with his in-depth knowledge of Jeet Kune Do. I feel that it would be a great addition to any martial art library.
It will certainly be a big part of my JKD library."
-Sifu Tim Tackett
Wednesday Night JKD Group
"I am proud to say that my friend and fellow martial artist Kevin Seaman has combined his over four decades of martial art training with his skills as a writer and communicator and created "one helluva book" about Bruce Lee's martial art and philosophy of Jeet Kune Do. Much more than simply a book of techniques, Jun Fan Gung Fu — Seeking the Path of JKD (Volume 2) Liberate Yourself and Return to the Nucleus explores such facets as core principles, physical attribute development, mental attitude, equipment training, nutrition, and covers essential elements of training often overlooked or ignored by less knowledgeable instructors. Whether you are a beginner, an advanced practitioner, or an instructor, this book should definitely be a part of your martial art library."
– Sifu Chris Kent, author of The Encyclopedia of Jeet Kune Do (From A to Z)
and Liberate Yourself – A Guide to Personal Freedom
"I have known Sifu Kevin Seaman for over 25 years. He is an excellent instructor and is very knowledgeable in the art of Jun Fan Gung Fu. I highly recommend his books to anyone interested in furthering their knowledge in martial Arts."
-Sifu Francis Fong
Atlanta, Georgia
"Kevin Seaman has hit it out of the park! His depth in knowledge of JKD and attention to detail make this follow up book a must read for new students as well as instructors of Jeet Kune Do. Not a doubt this will get National and International attention."
-Sifu Luigi Orlando Cuellar
Director of Nubreed Martial Arts Academy
New York City
"Seeking the Path of Jeet Kune Do is jam-packed with outstanding training tips and strategies from one of the most gifted martial arts instructors around. You will refer to this book again and again on your path to mastering JKD."
-Sifu Jim Brault, author of A Path of Mastery
ORDER BELOW!

$24.95 + FREE SHIPPING    (USA ONLY)
____________________________________________
*Just Released

The Mind Game Of Competition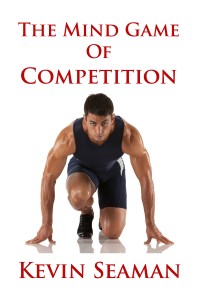 The NEW Book, The Mind Game Of Competition is here. Foreword by renowned coach April Hartsook. This is the fourth book written by acclaimed author and Master Coach Kevin Seaman. If you compete in any sport, you NEED this book! All things being equal, the mental aspects of competition are CRUCIAL to SUCCESS and this book focuses primarily on the mental side of competitive sports and athletics! Using proven methods learned from some of the best coaches out there, as well as principles of advanced mental conditioning aspects Master Coach Seaman has developed himself over the past 30+ years. This book is 100% guaranteed to change your GAME or your money back!
"Listen, I don't CARE how good you think you are…you can improve your RESULTS. I've shown thousands of people how to do exactly that…IMPROVE THEIR RESULTS and with this book, you can too." -Kevin Seaman
ONLY $19.95  and Master Coach Kevin Seaman will personalize and sign your copy!  Not only that We'll ship it FREE in the USA. Don't let this opportunity pass you by. To Order Yours Today  with FREE Shipping  (USA Only) Click Below.

Buy directly from the author.
Request a personalized signed copy!
Also Available In Digital On Amazon and iBook
_______________________________________________________________________________________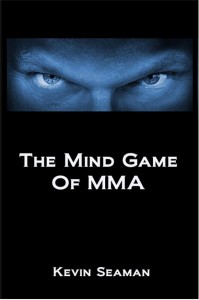 The Mind Game Of MMA
is NOW Available for order!
If  you order my new book today, I will send it personalized, autographed and with FREE Shipping !
(FREE Shipping in the USA Only)
Only $19.95
The Mind Game Of MMA
12 Lessons To Develop The Mental Toughness To Become A Champion
By Kevin Seaman
With a foreword by Professor Phil Migliarese III
4th Degree Black Belt under Relson Gracie/ Owner of Balance Studios
It has my stamp of approval and is ready for yours.
As a professional martial artist and mental performance coach, I have had the incredible opportunity to meet and train with some amazing athletes and coaches. One of the qualities that these individuals had that set them apart from everyone else is they have discovered the secrets to unleashing the power of their mind! In this book I will share with YOU the secrets that they used to separate themselves from their competition, into a class above everyone else as competitors, coaches, martial artists and people.
Why should you read this book? I've compiled the book into easy to read, engaging Lessons, each one rich with valuable content to help you develop your mind in the direction of your personal path to success in the martial arts!
Buy directly from the author.
Request a personalized signed copy!

$19.95 +
for a limited time
we will ship it FREE. (USA Only) Order Now!
Use our 100% secure server.
(N.Y. residents please add 8.% sales tax)

Order using Visa, MC AmerX or Discover (above) or send your check or money order to:
Center Line Press

326 Barrington Rd.

Syracuse, NY 13214
For more information
(607) 423-5159
"The Mind Game of MMA is a simple to apply book full of the best mind training tactics in the industry! I love this book! As soon as I read it I began implementing it with my fight team! Great stuff by Ajarn Kevin Seaman one of the best when it comes to the mind game of fighting and winning."
-Ajarn Bryan Dobler
Founder Double Dose Muay Thai
Fontana, Ca
"If you are looking for that edge that will help you push to new levels in your career then you need to read The Mind Game of MMA. As a professional, I consider this book a mandatory piece of training equipment."
-Jessamyn Duke
Pro MMA Fighter/ The Ultimate Fighter TUF Season 18
Richmond, Kentucky
______________________________________________________________
The Winning Mind Set
Ever Wonder Why You Don't Always Meet Your Potential?
Are you serious about being the BEST?
Then learn the secrets that were taught to us by some of the TOP coaches in the WORLD!
This Book, The Winning Mind Set  Creates A
"Toolbox For Excellence" To Help Us Meet That Potential!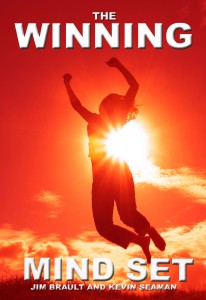 The Winning Mind Set Book $19.95.
Buy directly from the author.
Request a personalized signed copy!
Order Now & FREE Shipping anywhere in the US or Canada!
Use our secure server to purchase your signed copy today.
Use Visa, Mastercard, Amex or Discover. No PayPal account required.
Also Available on Kindle or ibook
Now Also Available:
The Winning Mind Set Audio Book
Listed on Amazon@ $32.95 Only $24.95.
All of the same great material in an Unabridged Audio Format,
6 CDs in all! Order now and we will RUSH your copy with FREE Shipping anywhere
in the US or Canada!  Hit the Buy Now below
The Winning Mind Set Audio Book is also NOW available on iTunes!
"Your attitude determines your altitude even more than your aptitude. This book shows you how to win from within in every area."
– Brian Tracy
UFC Light Heavyweight Champion Jon "Bones" Jones on The Winning Mind Set Program
"Simply Brilliant!"
-Jonny "Bones" Jones
"This book distills powerful wisdom on personal acheivement into an exceedingly readable style. While there are a thousand books that teach, or attempt to teach, similar subjects, this book is unique its is comprehensiveness, its applicability to everyday life, and its practical edge (each chapter includes exercises for using the information just provided). You could buy a library of books, attend dozens of seminars, or just read, re-read, and live by this book."
-Aaron Franklin. Buffalo, NY
______________________________________________________________
Jun Fan Gung Fu:
Seeking the Path of Jeet Kune Do
By Sifu Kevin Seaman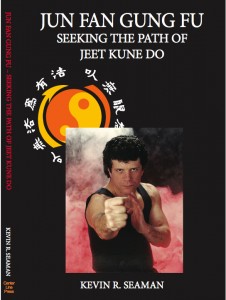 Re-released by popular demand, Sifu Kevin Seaman will share his experience of nearly 40 years of study in various martial arts systems in this highly informative text on Bruce Lee's Jun Fan Gung Fu and the art and philosophy of Jeet Kune Do. Included in this volume are core techniques with detailed descriptions and numerous drills to help you develop the essential framework for success in Jeet
Kune Do.

Sifu Kevin Seaman is currently one of a select few, having achieved the rank of "Full Instructor" in both Kali & Jun Fan / Jeet Kune Do under Sifu Dan Inosanto.
Jun Fan was developed by the late Bruce Lee and taught to his personal apprentice at the time, Dan Inosanto, Jun Fan Gung Fu is the foundation from which Jeet Kune Do eventually evolved. This realistic, modern training approach cultivates strong physical, mental and emotional development.
Buy directly from the author.
Request a personalized signed copy!
ONLY $24.95
+ (FREE Shipping in the USA/Canada)

Also avilable on Kindle and ibook
"Kevin, your book is just as valuable as the Tao Of Jeet Kune Do!"
-Sifu Dan Inosanto
"Kevin has done a fine job of organizing the basic essentials needed for learning Jun Fan Gung Fu, which is essential for finding "your own path"
in Bruce Lee's Jeet Kune Do. Kevin's organization of this book exceeded
my expectations"…
-Sifu Dan Inosanto
 "I congratulate Sifu Kevin Seaman on providing Martial Arts practioners with a helpful
source of information for the study of Jun Fan. His discipline, sincerity and dedication
have made him a fine teacher"
-Sifu Francis Fong
Atlanta, Ga
______________________________________________________________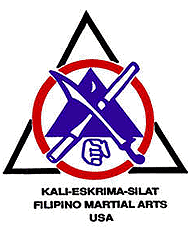 Filipino Kali DVD Vol I
With Guro Kevin Seaman
Almost 70 minutes of comprehensive instruction formatted in a developmental progression for optimal learning, presented in Guro Kevin's easy to follow style. Even if you've been practicing or teaching Kali for years, you will find useful information that will help to augment your current skill level.
Volume 1 covers history, footwork, basic blocks from various stick positions (roofs, wings, shields, umbrellas), hand checking positions, various striking patterns and targeting options, 3 Point Sumbrada (Counter for Counter), 5 Point Sumbrada, and disarms (while having a stick and empty-handed disarms against a stick).
Guro Kevin Seaman has trained in the Filipino Martial Arts since 1976. He is a Full Instructor under guru Dan Inosanto.
$24.95+ $4.00 Shipping